---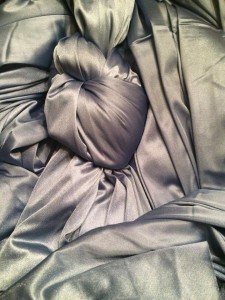 Now's your chance to own your very own
aerial hammock for your home practice!
---
If you've ever taken savasana in the hammock, you know how amazing it feels. Your aerial package will include everything necessary to have you practicing in your own space in no time. All you have to do is pick a hammock color! Aerial hammocks are available in both Single Point (as used in our studio) or Double Point (see below).
Single Point Hammocks move easily in all directions, giving you a sense of freedom in your movement.
Double Point Hammocks do not spin, but move forward and backward. Due to the double points, there is less compression against your body.
---
Technical Details
The fabric can support up to 1,000 lbs.
The hammocks come with daisy chains (adjustable straps), which allow you to easily adjust the height to accommodate your practice.
The loops of the daisy chain prevent a single point of failure.
Our aerial knots do not tighten and wrap around the rescue-grade steel carabiners. This keeps the hardware from scratching and tearing the fabric.
---
Installation
Prior to purchase and installation of aerial equipment, a structural engineer should be consulted regarding the hanging point.
Return Policy
ALL aerial equipment are non-returnable and non-refundable.
Washing Instructions
Use plain detergent (no fabric softener or bleach). Use a 'Gentle Wash' (warm water) for about 5-6 minutes of gentle agitation. Cold water rinse with gentle spin cycle. Untangle the fabric and put in the dryer for about 20 minutes on gentle/warm cycle with cool down ending. Take it out almost dry, untangle it, and put it back in the dryer for about 10 more minutes, until completely dry. Immediately after drying, take fabric out, untangle it, fluff it up, and it is ready to be rehung!
Note: fabric can fade if it is exposed to direct or indirect sunlight (through a window or skylight)
Fine Print
Users of the aerial hammock assume all risks.